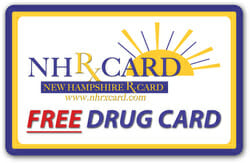 As a BIA member, you have access to a free discount prescription drug savings card that you can offer to your employees as an employee benefit. The BIA can supply the cards for all your New Hampshire employees at no cost.
BIA launched the New Hampshire Rx Card in 2009. The card offers savings of up to 75 percent on prescription drugs purchased at retail pharmacies throughout the state and across the country. Major pharmacies participating in the New Hampshire Rx Card program include Shaw's Osco, CVS, Rite Aid, Walgreens, Wal-Mart and Target pharmacies.
The New Hampshire Rx Card has no membership restrictions, no income requirements, no age limitations, there are no applications to fill out and no personal information is required to get a card. Employees who have prescription drug coverage can use the card to get discounts on non-formulary or non-covered drugs.
Did you know that the New Hampshire Rx Card can also be used for prescription pet meds?  If your pet is prescribed a medication that is normally for humans, you can use your New Hampshire Rx Card and potentially save up to 75% on your pet's med too.
​The New Hampshire Rx Card is a great option for individuals with health insurance plans that lack a comprehensive prescription drug benefit, plans that lack prescription drug coverage at all, or for those individuals without health insurance.
Additional savings!
To learn more, call 603.224.5388 x113.