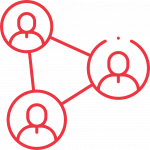 We are New Hampshire's leading business advocate on a mission to unify the voice of the business community and champion a competitive business climate and prosperous economic future for the Granite State. As the statewide Chamber of Commerce and state manufacturing association, no other organization in New Hampshire has as broad a reach to shape public policy or as extensive of a business network through which to engage and meet fellow leaders.
Join us
Membership in the BIA is both an investment in the future of our state's business climate and the health and success of your business.
Our mission: The BIA is the unifying voice of business, championing a competitive business climate and prosperous economic future for New Hampshire.
Our vision: New Hampshire is the leading state for business, creating economic opportunities and prosperity for all Granite Staters.
ADVOCATE for solutions and change to make New Hampshire a leading state for business
CONNECT and network with fellow business leaders, policymakers, opinion leaders as part of New Hampshire's most extensive business network
ACCESS key business and political insights and information through BIA communications, publications, committees, and events
LEAD by example and be part of a united business community working to bring the best solutions to our state's biggest challenges.
Cornerstone Leadership Levels
Membership at BIA Cornerstone levels represents the key investors of the organization that are deeply engaged in shaping the future of New Hampshire and the state's economic prosperity.
All BIA members receive:
Advocacy & Public Policy
Effective and impactful year-round representation at the State House by the BIA Public Policy team
Opportunity to shape BIA legislative goals and priorities at policy roundtables
Programs & Networking
Access and member pricing to BIA events and programs
Invitations to member-only events, roundtables, and networking reception
Opportunities to build meet and build relationships with the state's top political, business, and opinion leaders.
Business Insights & Information
Access to the BIA's weekly e-brief of business and political news and weekly in-session legislative updates and legislative alerts.
Subscription to the BIA's annual printed Legislative Report, Legislative Agenda and Scorecard, and Public Policy Priorities
Marketing & Branding
Opportunity to sponsor BIA events and programs
Digital and print marketing and advertising opportunities to connect your business with New Hampshire's largest business network
Member Exclusives & Discounts
Access to BIA's energy buying program, discount prescription drug program, and member-to-member discount opportunities.